OptiScan-MH the latest 3D scanning technology for on machine metrology. Combined with M3MH software, scan, and measure inside of your 5axis machining center, perfect your setups and increase your productivity.
Innovalia Metrology presents OptiScan-MH the 3D scanner sensor which provides high-performance and high-accuracy measurements inside your machine tool. Obtain within seconds the digital copy of the entire part surface in up to 5 axes machines. Equipped with a red line laser, OptiScan-MH generates 3D point cloud in a fast way delivering high-precision data for all types of parts and surfaces. This laser scanner with metrology precision, designed specifically to work on a machine tool, gathers original design and innovative configuration combined with the latest technical attributes that make this scanning sensor versatile for Fanuc, Siemens, Heidenhain, and other controls.
OptiScan-MH operating together with M3MH Software ensures such functionalities as iterative alignments, pre, post, and in-process measurement, creating high-resolution CAD color mapping and generating personalized reports. This outstanding solution will leverage your machine tool capabilities toward time-saving and higher production results for sequential part manufacturing, cost optimization, and in-depth part verification without the need for an external device.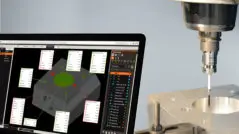 M3 MH: Complete Measurement Software for Machine Tools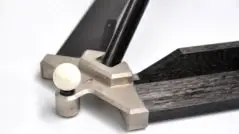 MH Check: Verification Software for Machine Tools