The specialized "Control" fair will be the first event where we will test the new equipment over the next 26, 27, 28 and 29 April in Stuttgart, the leading European city on the issue of quality assurance. "We will have a stand in Hall 5, where we will present comprehensive solutions for measurement and scanning, suitable for rail, aerospace, wind energy and automotive sectors", says Jesús de la Maza, president of Innovalia Group.
Equally, we will present the portable system will present high-precision scanning M3 portable, equipped with M3 platform (Massive Multisensor Measurement). This system optimizes perfectly the management of measurement processes naturally and efficiently, and, together with the optical sensor Optiscan, allows its integration into any system, for both laboratory and manufacturing online systems.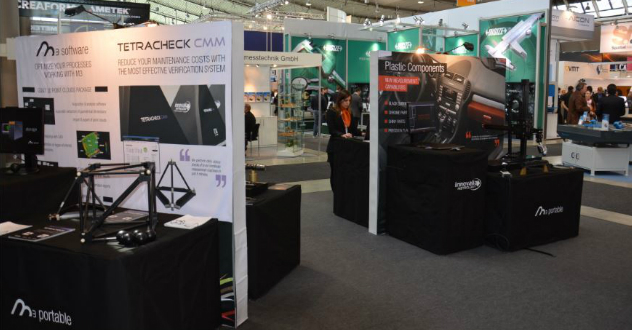 But this is not all. With about 1,000 exhibitors from more than 25 countries, the BIEMH is presented as the second event of the year where visitors can learn the latest technology in manufacturing processes of the very leading companies. Our metrological unit, Innovalia Metrology, will have a stand, C-41, located in Hall 1 of the fairground from next May 30 to June 4. There, we will present the latest innovations within the full range of metrology products.
"This time, as a result of our growing in the automotive industry, we will present a twin system measuring with high capacity which incorporates hybrid measurement for control, for example, the whole chassis of a car in times we could not have think of until now " says our president.