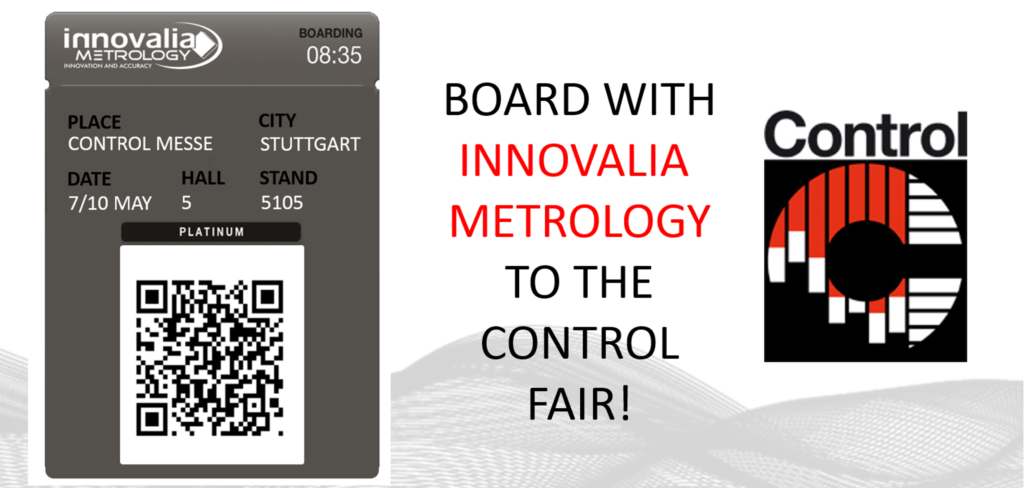 Innovalia Metrology invites you from 7 to 10 of May at its stand 5105 to the Control fair in Stuttgart to make the leap towards Metrology 4.0 solutions thanks to M3. Basing on our technology, Innovalia Metrology has developed a family of Metrology solutions, which within the M3 Experience, form a wide range of possibilities representing its complete integration in a single workflow.
The visitors of the stand will have access to the M3 technology thanks to which Innovalia Metrology has developed different products that allow optimizing the measurement processes, contributing to the market a new method of management of much more advanced quality and with a technological projection that allows us to speak of digitalization in all industrial processes.
On 8th  of May, Innovalia Metrology will exhibit its most innovative flagship solution, M3 Hybrid, the metrology solution that has earned the 4.0 label and which is contributing in a crucial way to discover the importance of metrology on the road to Industry 4.0. M3 Hybrid simplifies the process of acquisition of points and measurement by combining two capture methods: 3D scanner without contact thanks to Optiscan and scanning system with which we can work in the same workflow. In addition, the 9th will be the official presentation of M3MH where you can learn first-hand the proposal of Innovalia Metrology for machine tools, another of the solutions offered by the M3 Experience and that allows us to talk about intelligent manufacturing, IoT and Big Data.
M3MH manages to shorten the manufacturing time by introducing a complete metrological software in the machine tools and makes it possible to inspect the part inside the machine, allowing the user to do the verification and the set up from an intuitive graphic interface.
During both presentations, the team of Innovalia Metrology will invite interested parties to witness a live demo of their full M3 technology in real time. Do not miss it!