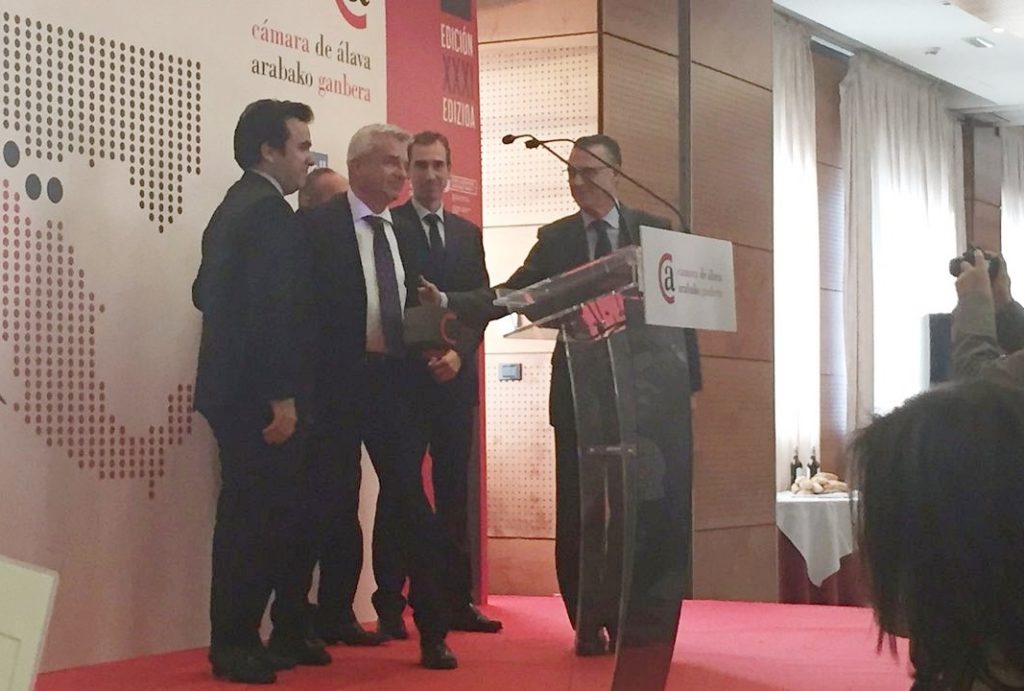 Trimek, part to Innovalia Metrology, Aernnova and Litografía Industrial Alavesa, have been given the 2016 Internationalization award by the Chamber of Commerce, Industry and Services of Alava.
In this XXXI edition of the Chamber of Commerce awards that took place in the Lakua Hotel, Trimek-Innovalia Metrology is once again honored with the awards and acknowledgments received in these last years. The event consisted in a discussion panel about opportunities in México and the importance of internationalization.
Trimek – Innovalia Metrology has always been a reference when it comes to coordinate measurement machines and providing dimensional control services. Receiving this award is a clear appreciation and recognition of the company's effort on reaching new markets.
As Borja de la Maza and Toni Ventura said when they were receiving the award "This award represents our motivation to maintain the effort in the coming years, to share and develop new technologies and knowledge by collaborating hand in hand with other companies, that's how we approach the future of internationalization with more solid steps"
The combination of innovations and technologic development has lead Innovalia Metrology to expand their presence to different places around the world. With thier sights set on the international markets Innovalia metrology is now located in the following cities: México D.F., Shanghai, Pekín, Munich, Varsovia, Charlotte (EEUU), London, Buenos Aires and Sao Paulo.
Innovalia Metrology continues to develop unique metrological solutions all over the globe ranging from 3D scanning and digitalization toall types of measurement solutions, making the goal to zero defect manufacturing attainable in the near future.
Receiving this award encourages Innovalia Metrology to keep developing their international presence and strengthens the role of Trimek as the 4.0 Industry reference in Europe but also, all around the world.