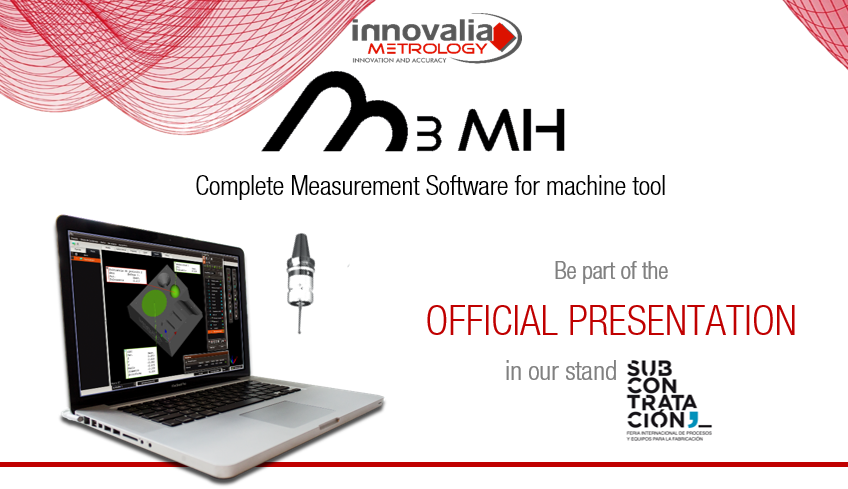 On Thursday 8, at 12 pm, Innovalia Metrology invites you to the M3MH official presentation in its stand (5 / 1-13).
During the Subcontratación, Innovalia Metrology will collect contacts to give away 3 free M3MH demos among the interested attendants. This way, Innovalia Metrology gives the opportunity to show the advantages and a full performance of the Software in the winner's machine tool.
Innovalia Metrology exceeds the limits of conventional metrology and provides a more intelligent, global and visual approach under its well-known motto "Innovation and Accuracy".  The slogan that has marked a path of innovation and improvement in the field of metrology putting precision and the optimization of processes in focus.
In this edition of Subcontratación, Innovalia Metrology invites you to make the leap towards solutions of Metrology 4.0 which will combine the software and the hardware with robotics and advanced metrology, guaranteeing maximum profitability and efficiency of the production processes.
M3, the product family of the brand, persues with M3MH the optimization of the production processes by introducing a complete metrological software in machine tools. M3MH, in addition, allows the user to inspect the part inside the machine and to manage the verification and set up from an intuitive graphical interface.
M3MH is already beginning to create expectation by offering a complete machine tool measurement software. When it comes to the verification, set up and measurement, the user won't need the famous G-codes or acqiring different macros for different tasks. M3MH allows you to program from an intuitive graphical interface and manage the machine tool from a computer.
Do you want to come to the official presentation? Register now!